The Santa Monica Conservancy invites you and your friends to our exciting virtual silent auction, Plates in Places, beginning Sunday, July 18 through Sunday, July 25. We are delighted to honor Santa Monica's food legacy and the people and places that enrich our community and its neighborhoods by feeding our stomachs and our souls!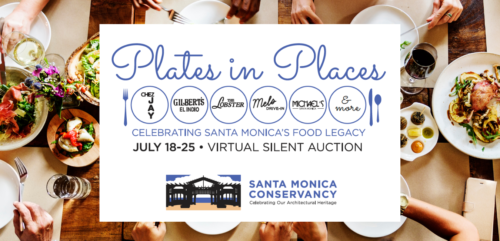 This week-long celebration of Santa Monica's rich and diverse food history will feature special panels of chefs, farmers and restaurateurs hosted by Evan Kleiman of KCRW's Good Food and Laura Avery, former Santa Monica Farmers Market Manager, to discuss Santa Monica's food legacy and the impact of the farmers market on dining. And you'll get the chance to bid on cooking classes, restaurant gift certificates, exclusive culinary experiences, luxury accommodations, specialty foods, wine and more.
Restaurants, bakeries, hotels and food and spirit vendors are the heart of our neighborhoods. They nourish us and serve as gathering places for our community. They provide continuity in our neighborhoods, making our city feel like home. Whether you live in Sunset Park, Ocean Park, the Pico Neighborhood, Wilshire/Montana, Mid-City, north of Montana or Downtown, the places you love — both historic and emerging — make your neighborhood unique.
Participation in the auction is free. Proceeds will provide essential support for the Conservancy's community programming and tours. Help us spread the word by sharing this event with family, friends and neighbors!
Date and Time
Sunday Jul 18, 2021 Sunday Jul 25, 2021
July 18 at 9 a.m. to July 25 at 9 p.m.
Location
Virtual silent auction
Fees/Admission
Free to register
---
---
Featured Events
New Members
---